Manufacturing - Blister Packing
Hi-Tech Pharmaceuticals offers virtually any form of thermoformed blister packaging or cold-form blister packaging for your nutraceutical packaging solutions. For convenience and flexibility, we offer scalable solutions from mini- to large-scale production, and for one-time (stability testing, promotional packaging, seasonal packaging) or your regular outsourced packaging requirements.
All Hi-Tech Pharmaceuticals blister packaging solutions for nutraceutical and OTC applications, all provided to you in our FDA cGMP environment.
Thermoformed blister packaging for virtually all forms of products:


Solids/Powders/Semi-solids (gels, creams and ointments)

Microfill and nanofill for powders


Blister packaging for regimen and combination therapies.

Multi-product blisters


Hi-Tech can package up to five different tablet and or capsules in a single blister package!


Blister packaging for stability testing

Child resistant blister packaging

Thermoforming and cold forming formats

Blister packaging for compliance and regimen therapies

Blister packaging prototyping

Cold-foil blister packaging

Heat seal blister carding

Blister card tipping and affixing

Custom engineered packages and packaging equipment for specialized applications & products
Manufacturing - Pouches/Strip Packing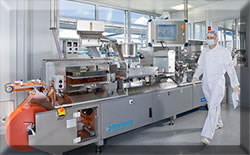 Flexible packaging such as foil-laminate pouches, heat sealed laminates, and strip packaging are a cost-effective solution for packaging powders, solids, and packaging medical devices.
Hi-Tech Pharmaceuticals has the technical experience combined with the best technology and materials available to make your product compliant and effective. Our complete pouch package services include four-side seal packaging and manual pouch sealing operations.
We can handle virtually any product:
Tablet/Capsule/Gelcap/Liquicap/Powder Fill/Medical Devices

Powder pouching expertise

Microdosing powders

Powder-filled pouches

Liquid pouching

Solid unit dose strip packaging

3-panel gussets; 4-panel gusset pouches

Sachet packaging

Stand-up pouches

Die-cut pouches to match other packaging forms (jars, bottles) for consistent branding

Foil-laminates:


Barrier pouches with gusseted bottom and heat-sealable bottom or zipper closure

Chevron peel pouch

Corner peel pouch

Square sealed pouch


Pouching, Pouch Sealing and Packaging Solutions equipment.

Processing Capabilities:


Vertical Form, Fill & Seal: Tablets and Capsules

Horizontal Form, Fill and Seal: Wound care products, Medical Devices, Consumer Products