Manufacturing - Blending
Hi-Tech Pharmaceuticals has several style mixers to accommodate custom blending requirements. The variety of mixers available allows Hi-Tech the flexibility to process high and low capacity batch sizes. All material is passed through a screen as it is loaded into the blender to ensure that no foreign material or objects are introduced to the mixture. All weighing is verified in accordance with our quality control procedure to ensure that the proper amount of each raw material is added to the blend. Hi-Tech utilizes a novel auger/screw blender, which reduces your standard deviation to within a fraction of a percent. As a result, you can expect the most uniformed and thorough blending throughout Hi-Tech's wide range of capacities and features.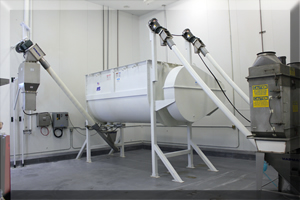 Regardless of whether you wish to slowly tumble a delicate product or rapid-mix a viscous one, our engineers will choose the right solution that best fits your specific formula and production requirements. Our blenders are all USDA/FDA Approved and have Capacities of 50-Pounds to 5,000-Pounds. Hi-Tech employs several agitation options: Paddle, Ribbon, or Auger Screw to best suit your needs! Hi-Tech has extensive experience with agglomeration and blending. We offer large scale blending, particle sizing, instantizing, agglomerating and fluid bed drying of nearly any type of food ingredient. We also offer pH modification, fat incorporation, and wet ingredient blending with dry powders. We operate a rigorous HACCP program and take great care with sanitation and storage procedures.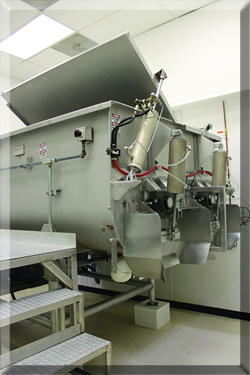 Blending capabilities: 90,000 Kilograms Daily
Hi-Tech has (11) Blenders that are capable of produing 90,000 kilograms of product for our solid dose machines. The workhorse (35) station tablet presses run constantly and will compress most any dietary supplement. All our work station presses were new or purchased from major pharmaceutical companies and produce precise and consistent tablets. Offering both B and D tooling
(1) Patterson Kelley 100 Cubic Foot Twin Shell "V" Blender

(1) Patterson Kelley 60 Cubic Foot Twin Shell "V" Blender

(1) Patterson Kelley 20 Cubic Foot Twin Shell "V" Blender

(1) 150 Cubic Foot Twin Ribbon Blender capable of blending 6,000 LB per batch

(1) Reitz 150 Cubic Foot Twin Screw Blender capable of blending 6,000 LB per batch

(1) Mepaco 136 Cubic Foot Twin Screw Blender capable of blending 5,000 LB per batch

(3) Mepaco/Reitz 60-66 Cubic Foot Twin Screw Blenders capable of blending 2,000-2,500 LB per batch

(1) Mepaco 30 Cubic Foot Twin Screw Blenders capable of blending 1,000 LB per batch

(1) Mepaco 12 Cubic Foot Twin Screw Blenders capable of blending 400 LB per batch