Questions About Generic Drugs
Generics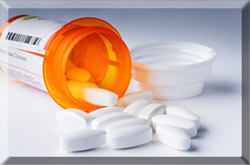 The bulk of Hi-Tech Pharmaceuticals' product portfolio, which consists of more than 500 individual products, includes high quality, more affordable generic medications sold throughout the world. Generic drugs are tried-and-true versions of brand-name pharmaceuticals and have been used by millions for decades. While the active pharmaceutical ingredient in a generic drug and its proprietary counter Hi-Tech Pharmaceuticals are chemically identical, generic drugs typically cost far less than brand-name drugs because their producers don't have to invent them from scratch.
What Are Generic Drugs?
Answer: Generic drugs are identical--or bioequivalent--to a brand-name drug in dosage form, safety, strength, route of administration, quality, performance characteristics and intended use. Although generic drugs are chemically identical to their branded counterparts, they are typically sold at substantial discounts from the branded price. When a medicine is first developed, the pharmaceutical company that discovers and markets it receives a patent, which gives the company the sole right to sell the drug while the patent is in effect. When the patent expires, a generic version of the drug may become available. Generics meet the same US Food and Drug Administration (FDA) quality and effectiveness standards as the original product.
Are generics as good as Brand- Name Pharmaceuticals?
Answer: Yes. Generic pharmaceutical manufacturers must prove to the FDA that their version of a drug:
contains the same active ingredient;

is identical in strength, dosage form, and route of administration;

has the same indications, dosing, and labeling; and

provides the same efficacy and safety profile to patients ("bioequivalent").
Why do generic drugs cost less?
Answer: Generic manufacturers are able to sell their products for lower prices not because the products are of lesser quality, but because generic manufacturers generally do not have significant expenses to recoup, such as research & development costs, since generics are not new drugs.
Are generic drugs as safe as brand-name drugs?
Answer: Yes. Generic medicines have to be safe and effective to be approved by the FDA. The FDA also requires generic drug manufacturers to:
meet the same batch-to-batch requirements for strength, purity and quality as the original manufacturer; and

follow the same strict "Good Manufacturing Practices" rules.
Do generic drugs have the same quality as brand-name drugs?
Answer: Yes. When a generic drug product is approved, it has met rigorous standards established by the FDA with respect to identity, strength, quality, purity and potency. Some variability can and does occur during manufacturing, for both brand-name and generic drugs. When a drug, generic or brand name, is mass produced, very small variations in purity, size, strength and other paraameters are permitted. The FDA puts limits on how much variability in composition or performance of a drug is acceptable.
The generics industry continues to grow as an aging population, a strong desire to reduce health care outlays and an increasing reliance on generics continue to fuel demand. Hi-Tech Pharmaceuticals is armed and ready to continue to seamlessly and efficiently deliver high quality products at competitive prices that offer solutions to health care demands across the globe.

Hi-Tech Pharmaceuticals innovates every day to be among the first to bring new generics to market. Introducing groundbreaking delivery technologies and difficult-to-manufacture and difficult-to-formulate pharmaceuticals are just a few of the ways Hi-Tech Pharmaceuticals demonstrates that it is anything but generic.
Hi-Tech Pharmaceuticals Pharmaceutical and its team of dedicated healthcare professionals bring new, high-quality products to market that are the therapeutic equivalents of the brand-name pharmaceuticals.
For Hi-Tech Pharmaceuticals, making the highest-quality and most cost-effective products and providing the highest levels of customer service requires more than the tried and true. It takes a precise combination of experience, skills, processes and resources that move from the traditional to the exceptional.
Experienced and dedicated management team

Proven commercialization resources and relationship

An active, ongoing business development program

Strong balance sheet to execute on the right partnerships.
Authorized Generics
Pioneer in bringing new, high-quality authorized generics to market quickly and cost-effectively as the patents expire on brand-name pharmaceuticals has been Hi-Tech Pharmaceutical niche with the ability to control the whole supply chain and get products to market faster than other generic companies.. This has caused Hi-Tech to be one of the top choices for major pharmaceutical companies worldwide when speed to market is imperative.
Quality and Compliance
A manufacturing quality and compliance process that meets extensive governmental regulations by the US Food and Drug Administration and, as applicable, the Federal Trade Commission and state and local governments.
Ability to Overcome Technical Barriers
Intelligent product selection, coupled with a diverse, unique product portfolio that extends from the latest difficult-to-formulate products to delivery systems that require advanced manufacturing technology, including liquids, nasal sprays, sustained released and bi-layered tablets, powder filled, liquid filled, and beaded capsules, and creams.
Regulatory & Medical Affairs Expertise
Fully staffed team of senior medical and regulatory affairs professionals with decades-long track record and broad therapeutic experience of bringing new, high-quality generics to market.
Supply Chain
In-house, US-based manufacturing capability with distribution operations that ship to top US retail chains, wholesalers, distributors, managed care organizations, mail order pharmacies and group purchasing organizations.